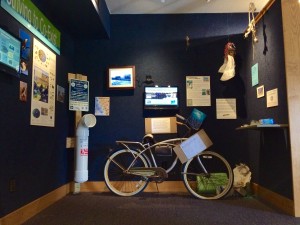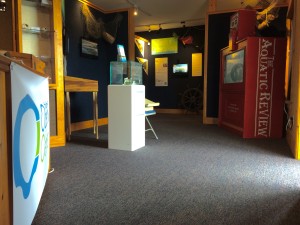 Explore our interactive museum and see a rare daylight sea turtle nest boil. Watch snakes dance as they perform a mating ritual. Have you ever seen an osprey fish for its dinner? Their eyesight and perseverance is amazing. We've a got a spearfishing video shot right in Hatteras that will show you a whole new world just beneath the surface of the water. Come and learn with us.

Ocean Center Hall contains HD video and traditional exhibits that help you explore the ecology and history of Hatteras Island and its surroundings.  Many of the exhibits are displayed on interactive touchscreens and allow you to focus on exactly what is of interest to you and learn at your own pace.
See satellite exhibits from local and regional museums such as the Graveyard of the Atlantic Museum, NC Aquarium on Roanoke Island, and other non-profit groups such as the Outer Banks Lighthouse Society, Watermen United, Day at the Docks, Chicamacomico Lifesaving Station, the US Coast Guard Auxiliary, Hatteras Island Genealogical and Preservation Society, Hatteras Island Wildlife Rehabilitation,  Coastal Voices (a developing oral history project), and others.  If you are traveling the Outer Banks National Scenic Byway, we can help you to find your points of interest along the way.