Have Fun While You Learn
"We wanted to express our thanks to you guys for giving our son a great vacation… He told me last night this was the best vacation ever and you guys made it fun. He also said he learned a lot!"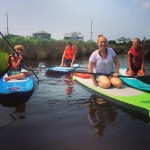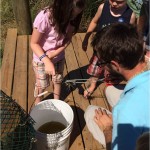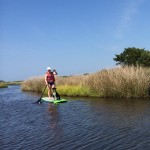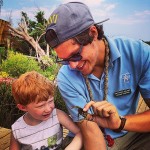 Reserve your spot in our regular programs or just drop in and enjoy our free mini-programs (10 to 15 minutes each) run throughout the day (usually two each hour).
Mini-Programs
| | |
| --- | --- |
| Make Your Own Wetland | Learn what makes wetlands are so special by making your own wetland. (Supplies provided.) |
| Salt Marsh Clean-up Crew | Worms, fungus, and bacteria, oh my! Learn about how these organisms clean up the salt marsh and what we can do to help clean up our planet. |
| Beach in a Box | The sand on our beach never stops moving. Through our simulation, learn how sand travels and why sand travel is so important to the Outer Banks. |
| Coming soon: Animal Meet and Greet | Come say hello to or two creature friends: the eastern box turtle and eastern rat snake. |
| Solar Flair | How does sunshine become electricity? Come and explore solar energy and take a look at the solar garden right next door. |
| Where Does My Water Go? | Explore water pollution sources and pollution prevention in a coastal area using a 3D coastal landscape model. Hands-on activities bring to life the impacts on wetlands, estuaries, oceans, beaches, barrier islands, groundwater, coral reefs, shellfish beds and more. |
| Marsh Walk | Join us for a stroll down our boardwalk and let's explore what lives in our marsh. |
| Trash Talk | Did you know that fishing line can take 600 years or longer to decompose? Come talk trash with us. |
Regular Program Schedule
Through Wednesday, August 31. For Thursday, September 1 through Friday, September 30 please call 252.564.9575 to schedule.
Morning Birding

MUST be booked in advance so we are ready for you.

FREE

Mon

8 – 9

Tue

8 – 9

Wed

8 – 9

Thu

8 – 9

Fri

8 – 9

Let's Get Crabby

FREE


Come catch blue crabs with our energetic and informative staff from our marsh walk. You will be introduced to different species of crabs as well as crabbing techniques. Then you'll try your hand at catching the blue crabs. Fun for all ages! All necessary equipment provided. Please register each person in your group.

Mon

2 – 3

Tue

2 – 3

Wed

2 – 3

Thu

2 – 3

Fri

2 – 3

Morning Kayak Nature Tour

MUST be booked in advance so we are ready for you.

$40

Mon

9 – 11

Tue

Wed

9 – 11

Thu

Fri

9 – 11

Afternoon Kayak Nature Tour

$40

Come see the diverse wildlife of our salt marsh up close and personal as we kayak through the wetland in our own backyard! Our guides will make sure you get the most out of what our wetlands have to offer. Kayaks and safety equipment will be provided. Tandem and single kayaks are available. Sunscreen and bug spray are recommended. All levels of kayaking ability are welcome.

Mon

Tue

4 – 6

Wed

Thu

4 – 6

Fri

Ocean Detectives

$10

Walk down the beach with our guides and learn what's happening in, on, and under our beach! Identify shells, plants, creatures, and beach features you've been so curious about. Then, follow us as we hop over to the sheltered waters of the sound and seine for fish and other water dwelling animals. Please bring close-toed shoes with a strap, as we will be walking in the water on both sides of the island.

Mon

Tue

3 – 4:30

Wed

Thu

3 – 4:30

Fri

Sea Turtles 101

$5

Learn everything you ever wanted to know about the life cycle of our local sea turtle species through fun family friendly activities and videos. We talk about why sea turtles can become stranded on our beaches and we will even walk through a mock-stranding! Each participant will have their own job during this scenario to save a sea turtle's life!

Mon

3 – 4

Tue

Wed

3 – 4

Thu

Fri

3 – 4

Campfires, Crabs, and Constellations

$10

Relax around the campfire with an iconic Hatteras sunset and an exceptional stargazing experience. Learn about Outer Banks history, legends, and nighttime beach creatures underneath some of the darkest skies you'll find along the East Coast. Both kids and adults will enjoy searching for ghost crabs in the tide, eating s'mores, and laying back under the Milky Way.

Mon

8pm – 10pm

Tue

Wed

8pm – 10pm

Thu

Fri

8pm – 10pm

History Bike Tour

$20

Did you know that Hatteras was an important spot in both the Civil War and WWII? Or that many ships were sunk or ran aground along our coast, some of which, if you're lucky, are still visible right on our beaches? Pedal around Hatteras with us as you learn about the cultural and physical history of our village. Our educated guides will show you a side of Hatteras that not many people have the chance to experience. We provide bikes, helmets, and safety vests. It is perfectly fine to bring your own bicycle.

Mon

Tue

9 – 10:30

Wed

Thu

9 – 10:30

Fri

Nature and Art

$10

Visitors will learn about recycling and pollution and its effects on the ecosystem of Hatteras Island and elsewhere. You will then create a piece of ocean themed art that reflects what you have learned. You will be able to take your art home with you as a reminder of your experience!

Mon

See you next summer.

Tue

Wed

Thu

Fri