The Ocean Center and part of the Outer Banks National Scenic Byway, is located on the sound side of Highway 12. This is just northeast of central Hatteras Village, about 3 miles from Frisco and 1.8 miles from the Hatteras ferry terminal. Look for the big yellow building at Mile Marker 71! For more information on Hatteras Village, visit the website: www.hatterasonmymind.com 
Hatteras Island Ocean Center
57204 NC Highway 12
Hatteras, NC 27943
At the Ocean Center, you will learn about Hatteras Island inside the exhibit room. Outside – on our boardwalk and marsh trail – you will experience the salt marsh ecosystem firsthand!
Touch, see, hear, and smell. You never know what kind of critters you'll see from the salt marsh boardwalk located behind the main building. Either in the water, on land, hiding in the trees and grasses, or flying nearby, you are sure to see some of the many species that call the wetlands their home.  The view from the observation deck (at the end of the boardwalk) is beautiful during any time of the year.
Launch your kayak, canoe, or stand-up paddleboard from our easy public water access and you will only be a short paddle away from Sandy Bay and Slash Creek. Footwear is required on the boardwalk.
You can also go crabbing for Blue Crabs (Callinectes sapidus) right from our boardwalk! Click the following link for information on the recreational coastal water regulations: http://portal.ncdenr.org/web/mf/recreational-fishing-size-and-bag-limits
Download brochure with paddlesports map
List of Local Equipment Rental Companies (& Other Organizations)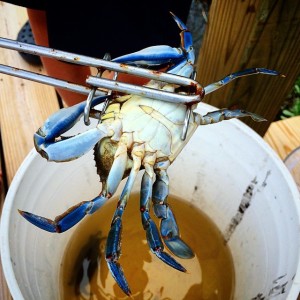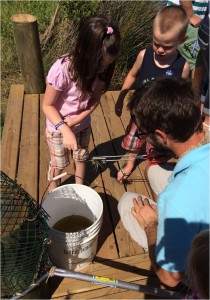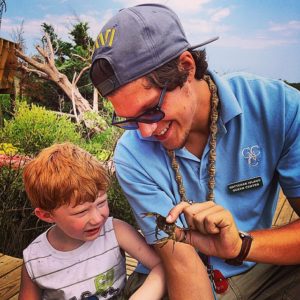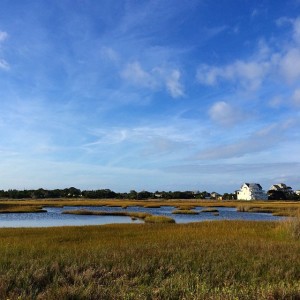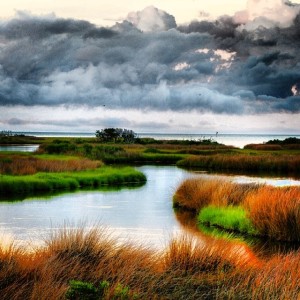 Boardwalk & Marsh Trail
Experience coastal wetlands up close and personal.  Our boardwalk and marsh trail are very short and easy to walk, but they pack a lot of action.  You never know what kind of critters you'll see in the water, on land, hiding in the trees and grasses, or flying by.
Interactive Exhibits
Our touchscreen displays and traditional exhibits will help you explore the ecology and history of Hatteras Island and its surroundings. We would like to thank Network for Endangered Sea Turtles (N.E.S.T.) (http://www.nestonline.org/), Cape Hatteras National Seashore (https://www.nps.gov/caha/index.htm), the North Carolina Coastal Federation (https://www.nccoast.org/), Chicamacomico Historical Association (https://chicamacomico.org/), Sea Grant North Carolina (https://ncseagrant.ncsu.edu/), and NC Aquarium on Roanoke Island (http://www.ncaquariums.com/roanoke-island) for the support they've shown through their educational display donations to the Ocean Center.
And as of recent, many of our displays are of projects completed by Hampden-Sydney College students.
Gift Shop
We currently have T-shirts, stuffed animals, magnets, ornaments, books, postcards, and more! Our items make great souvenirs and Christmas gifts!